Students from CTU in Prague have the unique opportunity to study the subjects offered by EuroTeQ universities online. You can participate in Bachelor's, Masters and Doctoral studies. Learning takes place together with students from other EuroTeQ universities, with the student being granted the status of a visiting student. You can study at one or more EuroTeQ universities, and the subjects passed will be taken into account when completing the curriculum.
Take on-line courses from the EuroTeQ partner universities
You can begin your studies at EuroTeQ universities twice a year – in the autumn semester and in the spring semester. The subjects offered by EuroTeQ partner universities Technical University of Munich (Germany), Eindhoven University of Technology (Netherlands), Technical University of Denmark (Denmark), École Polytechnique (France) and the Czech Technical University in Prague (Czech Republic), can be viewed on the EuroTeQ website: www.euroteq.eu/courses.
The subjects offered in the EuroTeQ course catalogue are all in English; however, it is also possible to take part in language lessons offered by the partner countries every semester.
The subjects in the course catalogue are either entirely online, hybrid or blended form courses. For clarification:
Online course – the course takes place for everyone in the form of online distance learning.
Hybrid – a course in which a EuroTeQ student participates online, while home university students are physically present in the classroom.
Blended – the course takes place mainly as distance learning, but part of the studies take place on site (e.g. practical training, exams).
Join the EuroTeQ Campus, providing students with the opportunity to study within the framework of their own curriculum at up to six different technical universities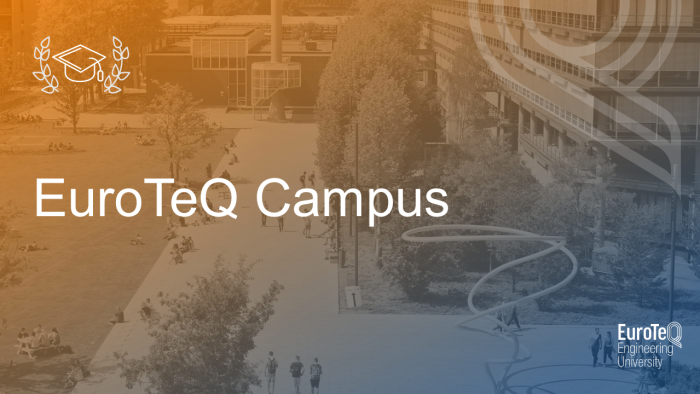 EXCHANGE STUDIES AT EUROTEQ UNIVERSITIES
Studying at EuroTeQ universities offers students an excellent opportunity to gain international experience and get to know a new cultural space. We invite all students from Tallinn University of Technology to enrich their studies with a foreign experience.
This can be done under the existing Erasmus + programme for study abroad. Spend one semester or a whole year at a prestigious EuroTeQ university!
There are two application rounds each year:
main competition – in February (application for autumn semester or full academic year)
additional competition – in September (application for the spring semester)